Benvenuti nel sito Web di S.olar Technology Group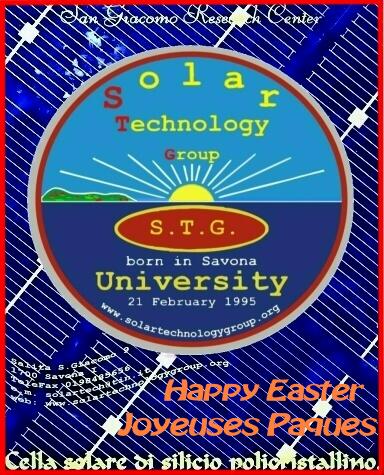 ---





- San Giacomo Research Center -


The company name Solar Technology Group (STG) would suggest that the no-profit association is only interested in solar technology. It is not so. As a natural development of STG since June 5, 2003 an active research unit was attached and activated with the name San Giacomo Research CenterThanks to the research that has been carried out for years on subjects such as electromagnetic fields, biomedical engineering (help for handicapped people), environmental engineering (bioelectrical activity of vegetable beings), didactic technologies, without the numerous ones PATENTS of industrial discovery. Some have nothing to do with solar radiation.

There is no doubt that an important and perhaps crucial part of our decision to devote a branch of applied research to humanitarian initiatives depends on our visit to the San Giacomo site in the summer2002 of Volunteer Luciano .

That day, back from Central Africa and about to leave again, Luciano almost forced me in great haste to plan a photovoltaic system for a mission. I did that immediately with enthusiasm. I became convinced of the truth of the sad tale of the volunteer's resolve and passion.

After that long conversation, other encounters followed, but after that excited experience all that seemed to be left was a valuable topographical map of the area around the village of 'Ndim, where the photovoltaic power plant was to be built. This map is still preserved in our historical archive. Today, not just one but three are the facilities that feed three hospital units: maternity, nutrition center and pharmacy for the poor and a mission of the nuns Figlie Nostra Signora della Misericordia who are currently working there.
I repeat: perhaps it was Luciano's merit for stimulating the suggestions that made the new area of ​​interest:



Research & Development for Humanitarian Initiatives


and as a result the formation of



Acting Research Unit - San Giacomo Research Center


caused.

A year later, in 2003, two doctors Giovanni (Vanni) and Tullio made contact for the same reason and for the same African village, and they made available a large part of the sum that was necessary for the project and that arose from collections . On our part, the remaining financial cover and two years of work. That delightful and very gratifying journey is still going on today.

If you are interested, you can find documents (films, photos and travel diaries) about PROJECT AFRICA, and especially about the three humanitarian and scientific missions in Cameroon and in the Central African Republic, as well as the cooperation with Doctors Without Borders in Uganda and request for help for some projects in other countries such as Madagascar, Congo, Rwanda, Burundi, Burchina Faso, and information about future programs.

The regulation by Solar Technology Group, which was launched on May 20, 2007 was also confirmed by the ordinary meeting of members, undoubtedly confirms the formal existence. The active research unit has a director and, on request, includes the STG members who are interested and available, who seem to show a love for research along with respect for the rule of the statute and regulation (which is an essential part of the statute).
---
Consulenze
The SolarTechnologyGroup è semper disponibile per supporto e assistenza:
fattibilità e progetto di impianti fotovoltaici ed eolici,
allacciamenti alle linee elettriche degli impianti suddetti,
misure di conformità dei campi elettromagnetici,
progetti elettronici nel campo della medicina riabilitativa,
organizzazione di videoconferenze,
supporto nella compilazione di domande di brevetto,
conferenze e lezioni.
Contatti, incontri
Il direttivo si riunisce il primo Venerdì di ogni mese all ore 20.30 per deliberare sulle attività in corso.
Tutti i soci possono frequentare senza limiti di orari i laboratori di elettronica e metrologia.
La biblioteca è aperta alla cittadinanza tutte le mattine esclusa la Domenica.

Per informazioni potete scrivere a:
---
Ultimo aggiornamento il 23/09/2019 all 16:56