Interlining fabrics (not glued)
Display: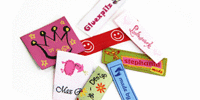 Since we're on the subject, I'll open the extra head to unglued (not ironed) interlining fabrics. .

In my childhood memories I also have that existing (pre-washed) fabrics were used. Or washed nettle. In skirt bands, which need a little stand, also thicker ones.

When I was away from home, I sometimes skipped one or the other insert. It was already the time of the Vlieseline, but that cost a lot. But it wasn't that good.

When it comes to the contribution, it depends on what I want to achieve. Support or even consolidate the fall of the fabric.

Now I'm going to get some literature.

"let the sun shine in ... "


... and greetings


Doro

Display:

Burda perfect self-tailoring from 1976 writes on Since 50.

main types:
Vlieseline (ironing and sewing insert, woolen linen (sewing insert, horsehair (sewing insert)

.... traditionally traditional costume processing with a sewing insert is mandatory. ....

The thickness of the insole depends on the nature and weight of the outer fabric and on whether the model is to be made soft and pliable or in a strict manner. One should note how the garment is washed afterwards. Organza or batiste is recommended for delicate silk fabrics.

The thread run must be observed. Cut inlays for sealing edges and cut-out edges in a straight line. Collar in the diagonal grain line. If the hem edges are to be reinforced with woven interlining, iron them in the diagonal thread run and then iron them into shape


"let the sun shine in ... "


... and greetings


Doro

Sewing manual, Augustus Verlag, 1997 (must be a reprint by Knaur)

counts up

woven insoles:

Tailoring lines (sturdy lines for stiffening collars, hats)

Organdy (a light cotton fabric for thin and transparent outer fabrics)

Canvas (medium-weight cotton or linen fabric as an insert for woolen fabrics)

Hair insert (heavy insert for jackets, coats)

Linon (for outer fabrics made of cotton and wool)

Batiste (for silk, linon and cotton; available in many colors)

Organza (especially for fine outer fabrics)

Mull (light, loosely woven cotton for silk and linon)

different fleeces to sew in (I think you look at the manufacturer's website of Vlieseline to see what is still available.

Intermediate feed is also mentioned here:
Wool, polyester fleece, domette fleece, flannel, jersey calico and domette


"let the sun shine in ... "


... and greetings


Doro

i still know stiff linen (no idea whether this is just an austrian term for tailor's linen or canvas, or whether it refers to another product). In any case, it is available in different thicknesses and is used for collars and cuffs on shirt blouses and shirts and (the stronger one) for bodices and handicrafts. Steaming well before processing is recommended if the item of clothing is to be washed later.

i usually cut it in the same grain as the upper material, only with a narrower seam allowance. no rule without exception: dirndl and ball gown bodices with the same amount of seam allowance, because this gives the bodice additional stability. (of course you have to cut into the curves). otherwise, stiff linen is simply grabbed in the seam and the allowance is cut back.

unlike most fleece lines, stiff linen is also suitable for items of clothing that are hot washed (white shirts, work coats)

right, we also talked about stiff lines. Hanau is not Austria. But it won't be of much use if I ask about it in the next store.

"let the sun shine in ... "


... and greetings


Doro

I'll have a look at the customers that evening. I found the following information on the website of a large accessories store in Vienna:

Iron-on inserts
- Microfibre, stretch, Sanfor, leather, saddlecloth and fleece linings
- Adhesive batiste, Hansel, Jersey
Insoles that cannot be ironed on
- Sanfor, pure wool, horsehair, nylon mesh and fleece liners

"Sanfor" is a brand name for pretreated cotton fabrics that no longer shrink when washed. "Hansel" is actually the name of a manufacturer (in Iserlohn), but when Hansel's instructions are used, it usually means a hair insert (for jackets and wool coats).
... and into the sewing pleasure! Threads in 460 colors in all common strengths. Smooth seams, tight buttons, high tear resistance and elasticity - quality for the highest demands. ... discover your favorite yarns now! [Advertisement]
Show what you are doing!
Donation goal
0.7%
0.7% (70 € of 10000 €) for the year 2021