How can I get MIT lectures
Conduct in lectures: 5 things to avoid
Did you survive the first few days at your new university well, the orientation week helped you to find your way around and you already know some of your fellow students? Then the lectures and seminars can finally start. But be careful: we have 5 things that you should never do in the lectures.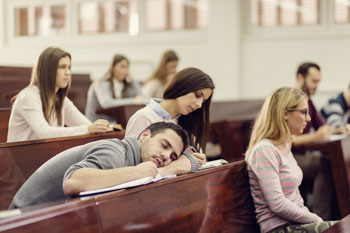 Simply call into the room, point out, say nothing at all and prefer to have breakfast - how do you behave properly during lectures, seminars and exercises? Is there such a thing as university etiquette or can everyone do what they want?
The first days and weeks at a university are exciting and unusual at the same time. You don't know every face that shares the lecture hall with you, and even the lecturer knows very few of his students by name. Nevertheless, this is no reason to abandon your behavior in front of the door and to forego politeness. Anyone who thinks that the lecturer is not aware of anything is wrong. Most lecturers or professors notice more of what is going on in the lecture hall or seminar room than you might think. There is no university etiquette, but these 5 rules should be followed.
The alarm clock didn't go off, the train was delayed or you just got lost. Of course, it can happen that you are late. However, those who always come too late are not only annoying, but also attract attention. Just because the professor doesn't know your name doesn't mean it's okay to be late. If you should be late, at least try to enter the room quietly and find a place as quickly as possible.
Didn't have time to have breakfast again? No problem, the next seminar is about to start! Anyone who thinks this way is sure to leave a bad impression. As a rule, you should try to have breakfast and lunch on the breaks between the individual events. If you are hungry and can't stand it, try to bite your sandwich as inconspicuously as possible.
At the latest, when you give a presentation for the first time and stand in the place of your lecturer, you will notice how unpleasant it is to look into louder chewing faces. Out of consideration for everyone else, you should generally avoid kebab and meatballs with onions. Odor-intensive dishes should be eaten outside.
Yes, 90 minutes can be long and you can have a bad day. However, if you prefer to use the time of the course to chat with the person sitting next to you, you will not only bother the lecturer, but also all other fellow students. As a courtesy, private conversations should be kept to a minimum. And if you absolutely have to get rid of something, please do so quietly so that the others do not feel bothered by you.
Participation in seminars and exercises is expressly desired. And in the long run it's pretty boring to just sit and listen. Don't be afraid and take part in the discussion. Try to stand out from the crowd and not get lost in the crowd. Lecturers make a distinction between who really has something to contribute and who just wants to win their favor.
By the way, not everyone who contributes to a course is automatically a nerd. And don't be afraid to say the wrong thing - if you do, no one can remember it the next day anyway.
Courses at universities are far less strict than school lessons. So if you urgently need to go to the toilet, you can just go and don't have to ask for permission. Telephones should be turned off or at least silenced before each course and calls are generally not made during courses.
back to the overview "Tips for first-year students"