What are aesthetics and ergonomics
ERGOPROBE: NEW STANDARDS IN ERGONOMICS AND AESTHETICS
Their new design, thought through down to the smallest detail, not only redefines ergonomics in the dental field, but also fatigue-free work and aesthetics. After the ERGOPLANT instrument line for implantology, there is now another trend-setting new product in the dental field from Aesculap.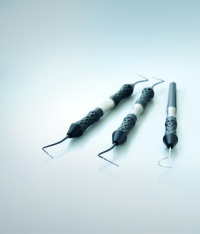 You don't want to put them down anymore - this is the unanimous opinion of dentists who have already tested the newly developed ERGOPROBE line of instruments. Because traditionally at Aesculap innovations are developed hand in hand with practice. During the two-year development period of ERGOPROBE, the periodontist and oral surgeon Dr. Stefan Schnitzer responsible. In addition, practitioners from university dental clinics and practices were closely involved in the development process. Testing, testing, testing - and continually refining and perfecting, that was the motto in the development process of ERGOPROBE. Because only what is developed under practical conditions can really convince later in practice - and that over many years, because the high-quality instruments are also extremely economical due to their long service life.
The surface of the handles in the tried and tested golf ball design ensures a particularly pleasant, non-slip feel. Together with the weight savings, this leads to a completely new, ergonomic work experience. Tried and tested Aesculap Phynox working ends with the special alloy of cobalt-chromium-nickel-molybdenum complete the ERGOPROBE line of instruments as a new, functional synthesis of ergonomics and aesthetics.
Additional Information:
Aesculap AG
At Aesculap Square
78532 Tuttlingen, Germany
Tel. 07461 / 95-2467
Fax 07461 / 95-2131
Email: [email protected]
Homepage: www.aesculap-dental.de
Date: 17.07.2014
Source: Military medicine and military pharmacy 2014/2